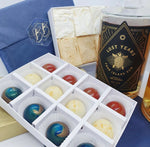 As we looked towards Christmas here at Lost Years HQ we got to thinking. What would make an awesome festive gift? Apart from one of our new smart gift boxes that is?! Then it struck us. How about mouth-wateringly tempting artisan chocolates and marshmallows using Lost Years Rum as a key ingredient? Welcome to our latest collaboration. 
When we first came across Bitesize Bakehouse's Jade Boswell, it was on TV. Ainsley Harriet's Good Mood Food to be precise. We were so intrigued by her bakes, and her business, that we got in touch to see if she'd be interested in a collaboration. "I took one look at the Lost Years website and thought 'I'm in'. I love what they do and then Lee sent me some rum to try and it was delicious. I started playing around with it and a couple of months later sent him my 'prototype' chocolates." 
It turns out our rum and Jade's handmade chocolates are a match made in foodie heaven. "I quickly found that the limited-edition cask aged Arribada rum worked really well with the dark and milk chocolate, while the Four Island blend is the perfect companion to white chocolate."
Inspired by our beautiful cocktails, Jade developed a selection of limited edition chocolates based on some of our favourite serves of the past 12 months. Here they are (click the link to see the cocktail that inspired them):
Coffee & Rum Caramel Marshmallow – rum and white chocolate ganache marshmallow using our Four Island Rum that's a nod to our Espresso Rumtini.
Dark Chocolate Café Caribbean

– coffee, coconut and Arribada rum ganache encased in an Ecuadorian single origin 56% dark chocolate shell. 

White Chocolate Bees Knees

 – a honey and lemon caramel paired with a white chocolate ganache in an Ecuadorian single origin 35% white chocolate shell.

Milk Chocolate Pumpkin Spice

 – roasted pumpkin and festive spice purée mixed into a milk chocolate ganache covered in an Ecuadorian single origin 40% milk chocolate shell.
Now the range is ready, just in time for the festive season. You can see (and buy) Jade's creations here. And all with 10% off when you use the code LOSTYEARS, until December 14th. 
"The Lost Years brand really spoke to me. I try to do good with what I do just like they do. All my chocolate comes from a single-origin, fully sustainable chocolate company that puts profits back into the local community. Just like Lost Years with their sea turtle conservation work. As I learned more about the company, I wanted to join forces with them even more. I love what they're doing and what they're all about. We seemed like a good fit."
We agree. With these chocolates Jade has blended the great taste of Lost Years with beautiful chocolate to create unique taste sensations. All with a nod to the cocktails we've created using our rum (you can see the cocktails here).
Look out for more news about our collaboration with Bitesize Bakehouse across our social media – and remember to check out our rum range and gifts for that special someone in your life this Christmas here!