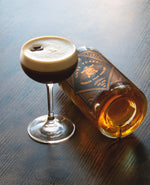 LOST YEARS ESPRESSO RUMTINI

Easy
To celebrate International Coffee Day we've created the gorgeous rum and coffee-fuelled Lost Years Espresso Rumtini!
Made with our Latin American Arribada cask aged rum and beautiful cold brew coffee, it's a masterpiece of simplicity.
The cold brew coffee concentrate from Soho balances perfectly with the warm, mellow, oaky flavours of our 5-8YO rum. Just the ticket for the autumn!
What you'll need
45ml Lost Years
Arribada Rum
35ml
Soho Cold Brew Coffee
Concentrate (or equivalent)
25ml demerera syrup (1:1 sugar:water)
How to do it
Combine ingredients
Shake vigorously over ice
Fine strain into a coupe glass
Garnish with three coffee beans