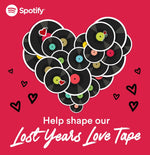 We love a good Spotify playlist here at Lost Years HQ and so, with Valentine's Day just around the corner, it's time for you to MOVE CLOSER and help shape our 2022 Love Tape!
We're aiming to build the perfect playlist for love and so we need your suggestions on great tracks we could include. 
From AGAINST ALL ODDS to ZOOM, we're looking to create a playlist that guarantees a day - and night - of ENDLESS LOVE.  Or at least endless music.
It could be that first wedding dance, a sexy number from the past or your favourite between-the-sheets soundtrack – just great, timeless songs you CHERISH and listen to TIME AFTER TIME.  And don't worry, we don't mind a little bit of cheese!
Don't be shy, say HELLO, add your faves in the comments below and we'll add them into the mix. 
We'll share our finish Spotify Playlist at the start of February – leaving you plenty of time to add more and get in the mood for love.  
Then just add a few glasses of Lost Years rum, some chocolates and someone special to share them with and you'll soon discover THE POWER OF LOVE…