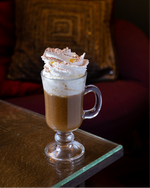 Caffè Caribbean - a Lost Years Signature Serve

5 mins

Easy
This one is best enjoyed on a cold night! Served warm with cream and cocoa powder, it's a glorious coffee-based pick-me-up featuring our multi award-winning Four Island rum and coconut milk. 
INGREDIENTS:
90ml hot freshly-brewed coffee
15ml unsweetened coconut milk
15ml simple syrup (or alternative sweetener)
HOW:
Build all-in heat resistant glass and stir well to combine.
GARNISH:
Whipped cream and cocoa powder.