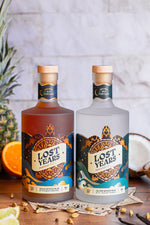 We've been really busy here at Lost Years HQ over the summer – incubating something new and rather exciting. The good news is, after many months of careful nurturing, they're about to hatch!  
Introducing our brand new spiced rum range, Wandering Turtle Rum….
A new and different direction for Lost Years, Wandering Turtle is our debut range of premium spiced rums.
Inspired by the wandering sea turtles of the Caribbean, they combine stunning tropical flavours with warm exotic spices to create a flavour sensation.  And just like the rest of our rums, every bottle sold raises money for sea turtle conservation.
We have two glorious flavours available at launch, with more in the pipeline.  
First up is an incredible SILVER SPICED RUM – one of the first clear spiced rums to launch in the UK. We've taken a beautiful silver rum from the leading distillery in sun-kissed Antigua and married it with moreish toasted coconut and exotic spices. 
Dive in and you'll discover a seductively grown-up coconut rum accompanied by gentle waves of tropical fruit – blood orange, mandarins, lime and vanilla – all lightly spiced with warm tropical spices.  We've taken coconut rum to a whole new level – creating a beautifully multi-faceted drink with layers of flavour.
Extremely versatile, it works well with simple mixer serves, in Tiki style cocktails and rum-based classics, or simply on its own, chilled over ice.
Alongside the silver rum we're launching a GOLD SPICED RUM with Queen Pineapple. Undeniably Caribbean, it features gloriously smooth rums from Jamaica, Venezuela and Nicaragua, beautifully sweet queen pineapples and tropical spices. 
Dive in and you'll discover a rich pineapple rum accompanied with gentle waves of tropical fruit - oranges, limes and coconut – all lightly spiced with exotic cardamon, nutmeg and ginger.  Made with barrel aged rum and infused with juicy queen pineapples, it's a flavour sensation!
Drink straight, on the rocks, with a quality mixer or use it to turbo-charge your rum cocktails.
As you'd expect from a premium brand like Lost Years, we've retained our commitment to using authentic Caribbean rums and the highest quality ingredients – just because a rum is spiced doesn't mean it has to be poor quality.
Both new rums have a touch of sugar added – a first for Lost Years – to give them a slightly sweeter flavour profile - something many of our customers have asked for.  We've kept the sugar levels low though compared to many other brands- don't expect sickly sweet from us!  
The new line sits alongside our existing Signature Series of pure, unadulterated rums and you can buy now at £32.95 each.