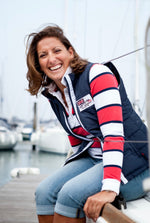 Our founder, Lee Smith, sat down recently with world sailing legend Dee Caffari MBE to talk sailing, sustainability, sea turtles and Lost Years' liquid sunshine! You can access the films here on YouTube.
Brought together by premium yacht charter brand Sunsail, for whom Dee acts as an ambassador, we met up at the delightful Her Majesty's Secret Service (HMMS) bar in Clifton, Bristol to share a few rum-fuelled and travel-inspired cocktails and to chat about her many adventures on the water.
To say Dee is well travelled is an understatement. In 2006 Dee became the first woman to sail solo, non-stop, around the world against the prevailing winds and currents and was awarded an MBE in recognition of her achievement. She has sailed around the world six times and was the first woman to have sailed single-handed and non-stop around the world in both directions. She's also an advisor to A Plastic Planet, a fantastic charity which is fighting to reduce the use of plastic worldwide. Hurrah to that!
Dee recently led 'Turn the Tide on Plastic' – the first mixed gender youth team to compete in the Volvo Ocean Race 2017/18; with a strong sustainability message. The campaign raised awareness of plastic pollution in our oceans and inspired people to take action in their day to day lives. 
Dee continues to highlight the vital importance of reducing our dependence on plastics and improve ocean health.  As the rum brand devoted to saving endangered sea turtles, it's a topic close to our hearts too – ocean plastic is one of many threats faced by these ancient creatures, so we're always keen to do whatever we can to help tackle this global problem.
We talked for a few hours and covered a multitude of subjects, starting with the most important one, sustainability.
While we sipped on a Pain Killer-inspired cocktail (a nod to the British Virgin Islands, one of Sunsail's most popular locations) Dee talked about her experience with ocean plastic, which she says is getting visibly and progressively worse. She explained how Sunsail is working hard to tackle waste and reuse materials like sails – which are repurposed into bags or furniture by local communities across Sunsail's destinations – and dinghies, which can have a new life as fishing boats.  
Sunsail have kindly broken our talk down into a number of short episodes, which you can view over at our Lost Years YouTube Channel or Sunsail's.  Check them out and let us know if it inspires you to try a sailing holiday, or just one of our lovely cocktails!
Make sure you follow Sunsail on Instagram and Facebook too – there you can find the recipes for the four awesome cocktails we shared.
Photos courtesy of Dee Caffari.