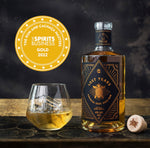 The Lost Years range continues its run of success with the latest addition to our bulging awards cabinet being a coveted gold medal for our Arribada expression. It takes our medal count to 11 – not bad for a brand that's just over 12 months old!
A luxurious blend of fine Latin American rums, Arribada scooped gold in the competitive Ultra Premium Golden Rums (£41+) category of the Rum & Cachaça Masters 2022 competition, announced this week.
This particular bottling marries beautiful aged rums from Panama, El Salvador, Venezuela, Nicaragua and the Dominican Republic, to create a unique and delicious blend.
It's very much in the Latin American style - column distilled so it's a lighter, less challenging drop to drink than many high end rums. Aged in white oak barrels for up to eight years in the Latin America heat, its wonderfully mellow, warm and spicy – and it's already proving a big hit with whisky and bourbon drinkers, helping them discover the wonderful world of unadulterated rum. 
With 227 entries from 87 different producers from all around the world, this year's Rum & Cachaça Masters competition was the most fiercely contested yet – so we're delighted to have scooped a gold medal.  It's also blind tasted, so it's all about the quality of the liquid.
The judges described Arribada as a 'classic gold rum', 'creamy and not overly sweet with notes of tropical fruits, banana, coconut, caramel, fudge and raisins'.
Arribada - Spanish for 'arrival by sea' - is the name given to the mass sea turtle nesting events that take place on Latin American beaches each year. It's an appropriate name for a rum devoted to saving endangered sea turtles (as with all our rums, every drop sold saves baby sea turtles!)