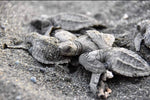 A surge in sales of Lost Years Rum over the Christmas period helped boost the latest donation to our charity partner, SEE Turtles, to its highest yet. It means that, with your help, we've now contributed enough cash to help save over 31,000 endangered sea turtles. Not bad for one year old brand based in a little town in Shropshire!
One of the many projects to benefit from our funds so far is located in the spectacularly beautiful Corcovado National Park in Costa Rica, which was made famous as the filming location for much of the Steven Spielberg movie Jurassic Park. 
Established in 2018, Comunidad Protectora de Tortugas de Osa is a community-led organisation dedicated to protecting the nesting Olive Ridley, Pacific Green and Hawksbill sea turtles in the area, as well as providing employment and development opportunities for local people.
The organisation works closely with the marginalised illegal gold-mining community, training them so they can secure paid positions in conservation and move away from environmentally damaging activities like mining, hunting and poaching.
The two beaches of Rio Oro and Playa Carate have very high nesting numbers of solitary Olive Ridley females, as well as smaller numbers of the more endangered Pacific Green and Hawksbill species. Leatherbacks – those giants of the sea turtle world - have also been known to nest there on occasions.
In total there is an average of 7,000 nests laid across 7.5km of beach annually. It's a large number, but they face many challenges and nests are often lost to hungry stray dogs, high tides, coastal erosion and flooding.  Nevertheless, each year sees around 450,000 Olive Ridley, 10,000 Pacific Green and 700 Hawksbills hatch in the area.
This is one of a number of projects Lost Years Rum is helping support – with our funds going towards a wide range of community-based initiatives funded by SEE Turtles' Billion Baby Turtles programme.
With your help, and in conjunction with SEE Turtles, we aim to save more than a million endangered sea turtles over the next few years.
Main photo courtesy of Comunidad Protectora de Tortugas de Osa.