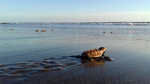 Lost Years Rum was launched in November 2020 and, thanks to your support, we've already raised enough money to save more than 15,000 endangered sea turtles.
Now that the funds are beginning to flow, we wanted to start regularly showcasing some of the amazing projects our funds are helping support – so you can see how your rum purchases are making a difference.
Our charity partner is SEE Turtles and Lost Years supports their incredible Billion Baby Turtles initiative, which has already saved more than four million endangered sea turtles. 
The programme works by targeting important nesting beaches around the world where human activities such as egg consumption threaten sea turtle populations. The money we raise helps get hatchlings to the sea and provide income for rural communities.
SEE Turtles works with a wide variety of organisations and local community groups to ensure the money raised makes a real difference 'on the ground'.
In El Salvador – home to one of the rums that make up our our amazing Arribada rum blend - SEE Turtles has partnered with ProCosta and the Eastern Pacific Hawksbill Initiative (ICAPO) since 2011. 
The work is focused around the stunningly beautiful Jiquilisco Bay, one of the most important nesting areas for Eastern Pacific hawksbills in the region.
Hawksbill sea turtles are critically endangered. Named for their narrow, pointed beak, they have a distinctive pattern of overlapping scales on their shells and are considered by many to be the most beautiful of the sea turtles.  
The Hawksbill population has declined by 80 per cent in the last century, primarily due to the global trade in their shells (often known as 'tortoiseshell') which have been used in jewellery and other decorative items.  However, this is just one of many threats they face. Turtle eggs are also considered an aphrodisiac in parts of Latin America, so there's an active black market for them.
This past season at Jiquilisco Bay, there were 299 hawksbill nests counted, of which only two were illegally collected.  This is a fantastic result, particularly as there has been an increase in illegal collecting of eggs as a result of the COVID pandemic (quieter beaches and a lack of other income opportunities due to reduced tourism).
By engaging with the local community and enlisting their support in finding eggs and bringing them to a hatchery where they can be looked after before hatching, this project has resulted in more than 18,000 hatchlings reaching the ocean this year. It has also directly benefited 187 local families involved in the conservation work.
The great news is that this Hawksbill population in this area continues to grow; of the 85 turtles that ProCosta observed during the last nesting season, nearly half (40 turtles) were untagged, meaning that they are likely to be new nesting turtles.
This is the tenth year that Billion Baby Turtles has supported this particular project; its financial support has helped to save an estimated 111,000 hatchlings in Jiquilisco Bay since 2011. 
This is one of a number of projects Lost Years Rum is helping support – with our funds going towards a wide range of initiatives under the Billion Baby Turtles banner.
Photo credit: ProCosta