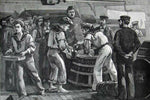 What exactly is Navy Strength Rum? Where did it originate? What's the correct ABV?  To celebrate Black Tot Day 2021, we wanted to answer these questions and shine the light on the centuries-long relationship between rum and the Royal British Navy.
Although this is our very first Black Tot Day (we only launched in November!) our beautiful Navy Strength unaged rum has already picked up a number of coveted industry awards, including a Master medal in the Rum Masters 2021 Competition run by industry bible, The Spirits Business. 
As a brand that's less than four months old, we're ecstatic about this achievement and we haven't stopped celebrating since! It's virtually unheard of for such a new brand to take this honour, which means it topped its category and that all the competition judges scored it in excess of 90 points out of maximum 100 based on a blind tasting.  
Lost Years Navy Strength is the strongest rum in our range – bottled at the 'true Navy strength' of 54.5% ABV.  But what does 'true Navy strength' mean and where does that very precise number come from?
The British Royal Navy's relationship with rum is a long and fascinating one. And it's one the rum fans like me pore over.
The practice of providing sailors with a daily rum ration to lift their spirits – the now famous 'rum tot' – is thought to have begun in the mid-1700s and continued until this very day in 1970. 
As navy ships travelled from port to port in the then British colonies of the Caribbean – notably Barbados, Jamaica, Trinidad and Guyana - they picked up various provisions, including locally-produced rum. 
To start with each ship effectively had its very own rum blend, based on the ports it had visited.  However, as time went by the Navy wanted a more consistent supply for its entire fleet and in 1784 the admirals shook hands with a guy called James Man to blend and supply rum fleet-wide. His company, ED&F was to hold this prestigious contract for nearly 200 years.
So what exactly is navy rum?  
According to the experts it's a blend of aged rums from two or more of the former British colonies we mentioned earlier.
Some go even further and suggest that it needs to include demerara rum made on a very specific still – the celebrated Port Mourant wooden still in Guyana, which delivers a recognisably earthy flavour profile. 
Finally, some claim that navy rum also needs to be bottled at a specific level of alcohol – enter the term 'navy strength'.
In 1866 the British Royal Navy set the standard issuing strength at 4.5 per cent below proof. With 'at proof' spirits being 57% in today's terminology, that's a formidable 54.5% ABV. Whatever you see or hear elsewhere, this is true Navy Strength! 
A more potent version of our signature unaged white rum blend, Lost Years Navy Strength combines a high-ester pot still rum from Barbados with traditional Coffey column still rum from Jamaica.
The combination of rums distilled in both pot and column stills creates a wonderfully light bodied yet flavour-packed white rum. With the natural sweetness of molasses and the warmth you'd expect from a higher strength rum, it's the perfect base for cocktails and can be enjoyed on its own or with your preferred mixer.
As one of the judge's on the Rum Masters competition said: "Amazing mouthfeel – the alcohol is present but well integrated. Beautiful!" 
Pure and unadulterated, with no added sugar or colouring, it's also vegan friendly and gluten-free.