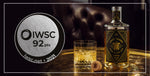 The Lost Years Rum medal collection continues to grow, with the addition of two more highly coveted awards this week, courtesy of the International Wine & Spirits Competition (IWSC) 2021.
This programme, which has been running for more than 50 years, is one of the highlights in the international wine and spirits calendar and is considered by many to set the benchmark for quality.
As a relatively new business, this is the first time we have entered IWSC and both of the rums we submitted scored 90+, earning prestigious silver medals and glowing verdicts from the judges:
Lost Years Four Island – 92/100 – "Deeply tropical, gorgeous, vanilla-scented woody notes laced with fresh minerals, coconut, grass and tropical fruit. Well balanced with a sublimely inviting nose." 
Lost Years Navy Strength – 91/100 – "Lovely depth and complexity, full of rich tropical fruit flavours and sweet sugar cane. Jovial on the palate, with a warm fat finish. Very pleasing."
This year was the biggest spirits judging in the IWSC's history. In the rum category alone, there were more than 300 samples entered, ranging from unaged white rums to dark intense cask finished rums, and coming from over 35 countries. 
Once again, this is expert-led recognition of the quality of our liquids and we are delighted to add the IWSC medals to our ever growing haul!