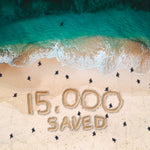 When we launched Lost Years Rum during the dark days of lockdown last November, we launched with a very clear and simple purpose - to save endangered sea turtles by selling world class rum.

Our entire brand has been built around this purpose, from the name (a reference to the early years of a sea turtle's life) and the contribution we make to conservation charity SEE Turtles for every bottle sold, to our decisions to offset our carbon emissions by planting the ocean wonder-plant seagrass and to be zero plastic.  And, of course, the liquid in the bottle is already winning coveted awards and five star reviews! 
So, with today being our very first World Sea Turtle Day, we are absolutely delighted to share the news that - thanks to everyone who has purchased our rum directly from our website - we have already raised enough money to save a staggering 15,000 baby sea turtles!
Just think of all those gorgeous little creatures beginning their own journey into the Lost Years!!
Working with our charity partner, the cash we raise together helps fund community-based conservation efforts across the Caribbean and Latin America - and is already supporting direct local intervention to identify and protect sea turtle nests and hatchlings and to educate local communities on the many threats they face. 

We're only just getting going and we aim to add many zeros to this number over the next few years, but I'm sure you'll agree it's a great milestone to celebrate.
A sincere and heart felt thank you to all of you who have purchased our rum and helped make our dream of 'great rum, doing good' come true.
Thank you.
Lee & Trudy