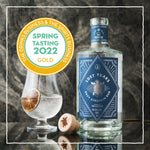 We're delighted to announce yet another coveted award for the Lost Years trophy cabinet - this time a gold medal for our gloriously grown-up Navy Strength rum!
One of the industry's leading spirit competitions, the DB & SB Spring Tasting sets out to identify the very best spirits on the world stage! 100% blind-tasted by a panel of leading drinks experts, it's all about the quality of the liquid and nothing else.
A blend of pot still rum from Barbados and column still rum from Jamaica, Lost Years Navy Strength is a truly world class overproof rum which has already won a clutch of awards. Fruity and funky but beautifully balanced, it's simply exceptional.
One judge described the Navy Strength rum as: "Intense, estery, funky nose: vanilla tapioca pudding cup, tropical fruit papaya. Bright and tropical palate with pineapple, papaya and the spike of alcohol you'd expect from a navy strength without being overpowering."  We couldn't agree more - it's a fruity, funky unaged rum, but beautifully smooth, balanced and drinkable. A truly world class white rum!