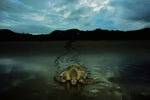 It's #seaturtleweek!
The third of our 'magnificent seven' sea turtles, the Olive Ridley is the second smallest species weighing roughly 75-100 pounds and being around 2-2.5 feet in length.
Named for their pale green carapace, they are the most abundant of sea turtle species.  They can live for up to 50 years. 
Like the Kemp's Ridley, Olive Ridleys nest in mass – a phenomenon knows as an "arribada." During arribadas, thousands of females may nest over the course of a few days.
The name Olive Ridley is attributed to Henry Nicholas Ridley, a botanist who encountered the species on Fernando de Noronha Island off the coast of Brazil.
Photo credits: Steve Winter