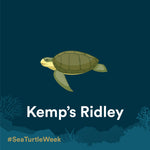 It's #seaturtleweek!
The second of our 'magnificent seven' sea turtles is the Kemp's Ridley turtle.
Until recently this endangered sea turtle was on the brink of extinction, with only 200 nesting individuals recorded in the 1980s.
Thanks to strict conservation laws which protected their nesting beaches in Mexico and reduced accidental capture in fishing gear, the species has begun a slow, but steady recovery and there are now an estimated 7,000-9,000 individuals.
The smallest of the seven species, adults weigh between 75-100 pounds and measuring approximately 2 feet in length.
In the US, these turtles are found in the Gulf of Mexico and along the Atlantic coast as far north as Nova Scotia. The primary nesting grounds in Mexico are at Rancho Nuevo, in the state of Tamaulipas, and in Texas along the Padre Island National Seashore. A small number have also nested further north along the Texas coast. However, 95% of all nesting occurs in Mexico in the state of Tamaulipas.
In 1947 an arribada - a mass nesting event - comprising more than 40,000 Kemp's Ridleys was filmed at Rancho Nuevo, Mexico. Quite a spectacle!!
They are named after Richard Kemp, a fisherman from Key West, Florida, who helped discover the species.