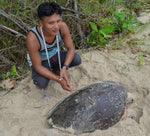 Built on our vision of great rum doing good, Lost Years has already raised enough money to save more than 15,000 endangered sea turtles.
Now that the funds are flowing, we wanted to showcase some of the amazing projects we're supporting – so you can see how your rum purchases are making a difference.
Our charity partner is SEE Turtles and Lost Years supports their incredible Billion Baby Turtles initiative, which has already saved more than four million endangered sea turtles. 
The programme works by targeting important nesting beaches around the world where human activities such as egg consumption threaten sea turtle populations. The money we raise helps get hatchlings to the sea and provide income for rural communities.
SEE Turtles works with a wide variety of organisations and local community groups to ensure the money raised makes a real difference 'on the ground'.
One very important ongoing project is at Playa Larga, Panama, one of the most important areas for hawksbill nesting in the world (and also home to some of our beautiful rums!)
Hawksbill sea turtles are critically endangered. Named for their narrow, pointed beak, they have a distinctive pattern of overlapping scales on their shells and are considered by many to be the most beautiful of the sea turtles.  
The Hawksbill population has declined by 80 per cent in the last century, primarily due to the global trade in their shells (often known as 'tortoiseshell') which have been used in jewellery and other decorative items.  However, this is just one of many threats they face. Turtle eggs are also considered an aphrodisiac in parts of Latin America, so there's an active black market for them.
Playa Larga is a long beach located in Panama's stunning Bastimentos National Marine Park. Since 2003, Dr Anne and Dr Peter Meylan have worked in partnership with the Sea Turtle Conservancy (STC) and the Ngäbe-Buglé indigenous community to study and protect hawksbills nesting on this beach and nearby beaches.
Monitoring nesting activity is hugely important from a conservation perspective, but so to is the mammoth task of protecting nests from illegal collecting.  
In 2020, there were a total of 121 hawksbill nests identified inside and near the park. Due to increased illegal collecting as a result of the COVID-19 pandemic, a quarter (31) of these nests were sadly raided, with all the eggs taken.  It's a tragic number, but without intervention it's likely that most -if not all - of these nests would have been targeted. 
Of the remaining nests, an estimated 10,018 hatchlings survived.
Reduced tourism means reduced income for locals and quieter beaches make for easy pickings, so the challenge of protecting these sites has been even tougher in recent years. 
Billion Baby Turtles has supported this work since 2019, providing nearly US $20,000 in grants and helping to save an estimated 67,000 hawksbill hatchlings.
This is one of a number of projects Lost Years Rum is helping support – with our funds going towards a wide range of initiatives under the Billion Baby Turtles banner.
Photo credit: Anne & Peter Meylan
Arcelio is a member of the local team and part of the Ngobe indigenous community. Daytime nesters like this one are pretty rare - usually the eggs are laid at night.