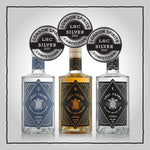 Hot on the heels of our gold medal win for Navy Strength at the DB & SB Spring Tasting 2022, we've only gone and bagged another FOUR medals for our rums at this year's London Spirits Competition! 
Some of the country's top bartenders and spirits buyers gathered on March 23-24-25 at St Mary's Church in London's Marylebone, sniffing, swirling, and spitting their way through a vast array of spirits. These include representatives from some of the country's most prestigious restaurants, bars, and hotels such as the Ritz, Le Manoir, Gleneagles, the Goring, the Connaught, and Claridges.
The 2022 Competition saw 447 entries from the United Kingdom as the top entrant country, followed by 323 products from Australia and 160 from the United States. Rum was the third most popular category after gin and whisky.  It's a hotly contested global competition, so we're delighted to walked away with medals for all four of our rums. 
Our lovely cask aged rum, Lost Years Arribada, was ranked highest this year, scoring an impressive 88 out of 100 - just two points off gold medal status! Navy Strength performed brilliantly again, scoring 87/100.  Our final silver medal was, appropriately, awarded to Silver Moon, which scored 82/100.  Last but by no means least, Four Island scopped a bronze medal with a score of 73/100. 
This latest medal haul takes our total medal count to 15 across all four rums in our line up - not bad for a brand just over 12 months old!