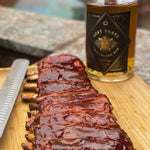 Planning a jubilee BBQ? How about some Four Island glazed ribs?!
Developed for us by gastronomic influencer and BBQ supremo Neil Clifton, this recipe is a surefire summer winner.
And don't worry, it doesn't need too much rum - so you'll have plenty left for sundown cocktails!
What you'll need:
340g ketchup
200g brown sugar
120ml water
60ml apple cider vinegar
1 tbsp Worcestershire sauce
1 tbsp molasses
1 tsp salt
1/2 tsp garlic powder
1/2 tsp onion powder
1/4 tsp ground mustard
1/4 tsp Paprika
4 tsp. Lost Years Four Island rum
How to do it:
In a medium saucepan over medium-high heat, whisk all ingredients until combined.
Bring mixture to a boil, then reduce heat and simmer, stirring occasionally, until thick, about 45 minutes.
Let cool to room temperature and store refrigerated in an airtight container.