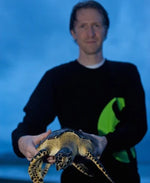 GUEST POST BY BRAD NAHILL, PRESIDENT, SEE TURTLES 
Our favourite time of the year is here, #SeaTurtleWeek kicks-off this Wednesday (June 8)!
A few years ago, SEE Turtles decided it was time that these amazing creatures get the Shark Week treatment, so we created this initiative to bring together the sea turtle community to raise awareness about them and the human-caused threats they face. In just three years, Sea Turtle Week has grown to one of the biggest outreach events for these marine animals, thanks to great participation by the community.
The week kicks off on June 8, World Oceans Day, and runs to June 16, World Sea Turtle Day. For the seven days between, each day features a different one of the seven species along with a corresponding threat that these animals face. The week wraps up with World Sea Turtle Day which is based on the birthday of one of the field's most iconic figures, Dr. Archie Carr.  
Sea turtles face a myriad of human-caused threats including accidental capture in fishing gear, illegal hunting and egg collection, uncontrolled coastal development, plastic pollution, and climate change. Sea Turtle Week aims to educate the public about these threats and how they can help support sea turtle conservation.
Anyone can participate using the #SeaTurtleWeek hashtag and sharing about these animals on social media. Sample posts, graphics, and more can be found on the SeaTurtleWeek.com website and on the initiative's social media accounts on Facebook, Instagram, and Twitter.
Over the first three years of the initiative, Sea Turtle Week has grown dramatically. In 2019, nearly 70 organizations participated and the effort reach more than 4 million people online. By 2021, there were more than 170 participating organizations and 12 million people were reached, along with more than 8,000 visits to the SeaTurtleWeek.com website and 3,500 followers on the initiative's Instagram and Twitter accounts.
We hope you will join us for this year's celebration!
Learn more: