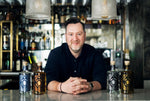 Lost Years celebrates its first birthday today and what a year it's been. Since Lost Years debuted last November our distinctive unadulterated Caribbean rums have been winning more and more fans – and saving more and more endangered sea turtles.
Two years ago, Lee, our founder, was on holiday with his family in the Caribbean. After touring the Hampden Estate rum distillery in Cornwall county, Jamaica, and visiting a sea turtle nesting area on a local beach, the idea for Lost Years was hatched. How about a rum brand that celebrates both great Caribbean rum and makes a difference to our planet by saving endangered sea turtles?  
From the off, Lee knew he'd be building a brand from scratch, that it would have to offer world class rum, and that the business must be as sustainable as possible. Undeterred he set the wheels in motion.
The first 12 months was a whirlwind of rum sourcing and sampling, brand development, bottle designing, and distribution planning, plus, of course, finding the right charitable partners to ensure the money raised through sales makes a difference.
The result? A new range of authentic Caribbean and Latin American rums that embrace the ancient art of rum blending to deliver characterful, unique flavour profiles, with proceeds from every bottle sold going to save endangered sea turtles. 
THE STORY CONTINUES…
So, one year on from that holiday, and after lots of hard work, Lost Years rum was launched online on November 9th, 2020. First on www.lostyearsrum.com, then other online spirit stores, including The Whisky Exchange, Masters of Malt and eventually Amazon. Then came a big pre-Christmas boost when well-known rum ambassador, Ian Burrell, took a bottle of Lost Years Four Island rum onto Channel 4's Sunday Brunch. We were really beginning to get noticed.
People were responding not only to our rum, but also the story behind it, with our marine conservation ethos really capturing the imagination. Industry feedback on our products was also great, and we were delighted to quickly win a clutch of prestigious drinks awards too. 
MAKING A DIFFERENCE…
Our first year has exceeded all our conservation expectations, but we have even bigger ambitions for our second year and beyond. Having already hit our fundraising milestone for US-based sea turtle charity SEE Turtles, we estimate we've helped a staggering 25,000 baby sea turtles make it to the water to begin their own journey into the 'lost years'. 
In fact, the first 12 months have proved so successful we've decided to increase our long-term goal from saving 500,000 sea turtles to saving over 1 million over the next five years. 
We're also committed to continuing to improve our own environmental performance by constantly seeking new ways to do what we do in a more sustainable way. From the start we decided to offset our carbon emissions by planting and protecting  seagrass, a real eco-wonder plant, but we're keen to go even further. In 2022 we'll look to commission the very first formal third-party assessment of our carbon footprint, with a view to becoming certified carbon negative by our third birthday.
ONWARD AND UPWARD…
As more and more people discover the joy of our unadulterated rum range, we'll look to add to our products with new and exciting rums in the pipeline. Our recently launched smart gift sets are already flying off the shelves – you can order yours here. We've also moved from purely online sales with Lost Years available in increasing numbers of bars, pubs and clubs, leading 'bricks and mortar' spirits retailers, independent bottle shops and even farm shops.  
Over the next 12 months we'll continue to build on this foundation and get our story out there to save even more sea turtles and introduce even more people to our 'grown up' rums. We're well on our way to establishing Lost Years as an international rum brand and look forward to launching in the EU and further afield in 2022. 
From the bottom of our hearts, thank you for making it a year to remember!