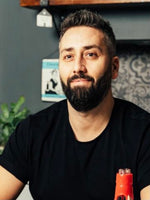 Here at Lost Years HQ we've noticed a definite shift towards mixed drinks going back to basics and more people wanting to make great tasting serves at home. Cocktails are becoming less fussy and seem to be focused more on the star of the show - the core spirit - than the supporting cast. Good news for us. And it's a trend seasoned mixologist, and Lost Years friend, Dan Whiteside has noticed too. With over 20 years of experience tending bar and running some of the best cocktail joints across the world, he's a man worth listening to.
"I first heard about Lost Years Rum on social media a while back and thought it sounded interesting. Once I'd tasted it I knew it was something a bit special. Brand owner Lee contacted me, and we went from there." Dan and Lee decided they should collaborate by creating an online series called Easy Rum Cocktails, which will run on Instagram, YouTube and Facebook. "I love how versatile the four different Lost Years rums are, but also it's great to make cocktails with a spirit that has such a provenance with its connection to some of the best distilleries in the Caribbean, as well as the world's oldest rum blending house."
Our rums are unadulterated, with no colour, flavouring or sugar added. Just a celebration of great Caribbean rums and the fine art of rum-blending. This new eight part series - which launches on 21st October 2021 - shows Dan skilfully creating a selection of simple, timeless cocktails – four twists on classic rum serves and four super-easy highballs – that really bring out the best in the unique pure taste of Lost Years.  
And that's not all. Dan has also just released his first book, Mixed in Minutes. A DIY cocktail assembly guide that demystifies cocktail-making - with absolutely no fancy cocktail equipment or experience needed! Just back to basics drink mixing using what you've got in the home. We'll be giving away some signed copies of it in the near future, so keep your eyes peeled. Plus, we've got big plans for another great prize giveaway that'll involve Dan's book, our soon-to-be-launched Lost Years Gift Boxes, and hand-picked mixers soon too.
If you've yet to buy a bottle of our multi award-winning golden or white rums, or very special limited-edition bottlings, you can see the entire collection here. If you've had a go at creating your own Lost Years cocktail we'd love to see it on our Instagram channel. You can post your pics and comments here - don't forget to tag us! And if you want to check out Dan's website, which is full of fascinating and useful drink info, you can read it here. 
And please remember why we started out in the first place. Every single bottle you buy helps in our mission to protect the endangered sea turtles of the Caribbean. So, a big thanks on behalf of them, and a big cheers from us.