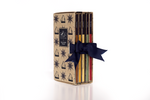 We all know that rum and chocolate are a winning combination and so, during the run up to Easter, we've been searching for the perfect match for our wonderful unadulterated Caribbean & Latin American rums.
We searched the length and breadth of the UK and eventually found our perfect partner in Devon's southernmost town, Salcombe, which was once a busy trading port for ships carrying fruit, cacao, sugar and rum.
The team at Salcombe Dairy make award winning bean-to-bar chocolate at their base in Island Street. They source organic, fairly traded cacao from the Peruvian rainforest and turn it into a range of beautiful hand-crafted chocolate bars.  Called simply The Bar, they're named after the sand spit mentioned in Tennyson's famous poem, 'Crossing The Bar'.
Here's what we recommend as a pairing for each of our Lost Years rums:
So why not ditch the egg this year and try a bar or two of chocolate heavy with one of our lovely rums?