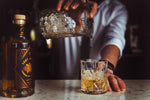 The one slightly surprising question I've been asked more than any other since launching Lost Years Rum is 'so, how do you drink it?'  
I usually answer this question with a glib 'any way you like it!', but actually it's a question that deserves proper consideration. 
Rum connoisseurs aside, the reality is that many people just don't know how to drink rum. Do you drink it neat like a Scotch, on the rocks, with a wedge of lime, with coke, with a simple tonic like gin or with a more complex mixer?  Or should it be the basis for a fancy cocktail?
The answer, of course, is all of the above!  Rum really is a spirit without rules and the most important thing is that you find a way of drinking it that you yourself enjoy, whatever form that takes.
As the world's most diverse spirit, rum takes many forms and – lucky for us – can be served in a multitude of ways. However, with a liquid that ranges from the clean grassiness of an unaged Rhum Agricole, to the luxuriously sweet richness of many spiced rums, it's not always easy finding the perfect pairing!
So, we thought it would be useful to provide a few pointers with our very own 'ten ways to drink rum'!  We'd urge you to give them all a go (ideally over a matter of weeks!) and, with a little experimentation, we're confident you'll soon find your personal rum nirvana. 
1. Neat 
Just as a wonderful single malt whisky can be enjoyed neat, so too the very best rums benefit from being served 'pure and simple'.  Drinking rum neat is usually associated with 'high end' single estate rums and quality aged rum blends suitable for sipping, like our Four Island and Arribada rums.
You should always serve your aged rums at room temperature, rather than chilled, as this helps release the wonderful aromas in the spirit.
Drinking good rum neat should be a process of sensory appreciation – exploring the aromas, flavours and linger of the spirit.  Like any treat, it's not something to be rushed.
The tasting process is pretty simple - pour about 3cl into a glass, swirl it around gently in the palm of your hand to disperse the aromas, then approach the glass with your nose and gently inhale. Don't stick your nose right in, as you'll end up eclipsing all of subtle notes with the fire of the alcohol, but rather let your nose get up close and personal with the aromas. Then take a first sip – gently roll it around your mouth and over your tongue before swallowing. Savour it. Explore it. Then exhale. A good rum will often provide the greatest thrill after you've swallowed it.
Glassware is important too – neat rum is ideally served in a slightly tulip-shaped glass which is slightly wider at the bottom than the top (we like the 'Just One Rum' glass from Dartington Crystal).   If you want to really savour the aroma of your rum, then a brandy snifter is a good option too.
2. With water
Some people like to add a few drops of water to their rum and there is nothing wrong with that – particularly for some of the higher ABV and cask strength rums out there, which can be a little fiery (as a rule anything about 45% ABV will cope well with a little water). Water will, however, change the composition of the rum and often releases more flavours and aromas, adding to the complexity of the spirit.  Your water should, of course, be as pure as possible – so avoid anything with lots of minerals.  In the UK normal tap water is usually just the ticket.
3. On the rocks
Once again, there is nothing inherently wrong with drinking rum neat over ice. However, the extreme cold of the ice will numb your taste buds and that will inevitably impede your enjoyment of the spirit a little. Also, don't allow your ice to melt into the glass as that super cold water will have a very detrimental impact on the rum.  Chilled whisky stones are fine instead of ice – they will bring the chill without the risk of melting ice.
4. With limes (or lemons)
An alternative to any of the above is to serve your rum with a wedge of lime or perhaps even lemon. The citrus flavours bring a different dimension to the rum and work really well with aged rums, even though they are often more associated with unaged rums (as used in citrus-based cocktails like the daiquiri or mojito).  We really like our award-winning unaged Navy Strength rum served with lime - the citric acid complements the naturally sweet flavours and body of this high ABV rum, while the lingering malic acid adds even more complexity.  Simply squeeze gently to release the juice into the rum, then drop the wedge into the glass and enjoy. 
5. With Coca Cola
Okay, so for most of us our first experience of rum is likely to have been a rum and coke. And there is nothing wrong with that!  This super simple serve – otherwise known as the Cuba Libre cocktail – has certainly stood the test of time, dating back well over 100 years. 
And it's easy to see why. 
At its most basic, a rum and coke involves taking a tall glass (highball) filled with ice, adding the rum, followed by cola, and garnishing with a lime wedge. The ration of rum to cola we usually recommend is 1:2 or 1:3, but you can play around with this. 
While Coca Cola remains the cola of choice in many bars, there are now a wide range of craft colas to experiment with.  There are also an infinite range of rums to try – though, of course, we'd always recommend Lost Years!  I particularly like Franklin & Sons 1886 Cola or Fentimans Curiosity Cola with our Four Island rum.
6. With ginger beer (or ginger ale)
The spicy sweetness of ginger beer makes a great companion for aged rum and gives it added kick.  Ginger beer has a stronger flavour profile than its bedfellow, ginger ale – though the latter also works equally well with white rum, for a lighter drink. 
The classic 'Dark 'n Stormy' cocktail (copyright Goslings) is simply Goslings Black Seal rum, together with ginger beer and a wedge of lime.  You can try your own riff on this, just be careful what you call it! 
There are some fantastic craft ginger beers and ales now available – we love those from Fevertree, London Essence, Franklin & Sons and Fentimans.  And try them with a variety of rums – dark, golden, spiced, to find the right combination for you.
7. With tonic
Yes, rum and tonic really is a thing!  Typically associated with gin or perhaps vodka, the explosion of craft tonic waters is great news for rum drinkers and there's an ever-growing array of tonics to try.  Personally, I prefer to use tonics with our unaged Silver Moon or Navy Strength rums, as the bitter quinine complements the natural sweetness of these rums brilliantly.  But you can mix them with aged rums too – the floral notes of the tonic really play off the woody notes of the rum. 
We'll be showcasing a range of mixers on the Lost Years blog over the coming months, including lots of unusual tonics – watch this space!
If you're mixing your rum with a tonic, you'll ideally want to serve it in a highball glass – also known as a Collins glass.
8. With hot chocolate
This is my new guilty pleasure!!  Arm yourself with the incredible Velvetiser machine created by Hotel Chocolat, some of their awesome drinking chocolates and a bottle of good rum and you can't go wrong!   My personal favourite so far is a combo featuring Hotel Chocolat's Chilli Elegant drinking chocolate (70% dark chocolate with Habanero chilli) and our very own Four Island rum. Wow!!  Wait for a cold day and give it a try – it's sensational!
9. Warmed up - the rum hot toddy
Another wonderful 'winter warmer' is the relatively under-appreciated rum hot toddy. There are dozens of recipes out there, so it makes sense to search and experiment.  A nice aged rum works really well – there's something about our Arribada Cask Aged rum which lends itself really well to this serve – but many opt for a spiced rum. You can add a variety of things into the mix - fresh ginger, cloves, star anise, cinnamon, lemon or orange, with honey, sugar or cherry syrup for sweetness.  I recently discovered this recipe for a Chai Rum Hot Toddy courtesy of Imbibe magazine (that's a revelation, thanks guys!) 
10. In a cocktail
And last but not least – the mighty cocktail! Rum and cocktails go hand-in-hand and there are, of course, far too many to feature here – from the classics to our own bespoke signature serves (check out our Serves page for these).   We will be doing our bit to showcase the very best of them on this blog and across our social media channels in the coming months, so stay tuned. 
So, next time you come across someone scratching their head wondering how to enjoy their newly acquired bottle of rum, point them this way!