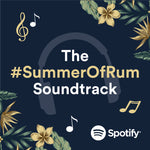 Music and rum go hand-in-hand and so, as part of our #SummerOfRum celebrations, we'd love your help creating the ultimate summer playlist for Lost Years Rum! 
Whether you prefer up tempo or laid back beats, old school classics or something more current, there's room for all tastes at this party!
We've already compiled a starter for ten based on some of our own favourites – now it's your turn!   
To access and follow the playlist, just click the link:
https://open.spotify.com/playlist/0EtTM2sDhtrVwuOxs6DDwO?si=abdcbd9a9305468d
We want to create the ultimate dusk to dawn summer playlist, so let us know what you think is missing – just comment on this post or direct message us and, if we think it fits, we'll add it to the mix. 
Enjoy.