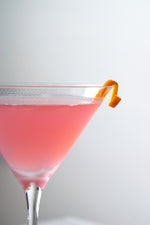 Today – May 7th – is Cosmopolitan Day, the annual celebration of one of the world's most popular cocktails.   We're always looking for an excuse to enjoy Lost Years Rum, so naturally we couldn't let this opportunity pass and simply had to create our very own take on this classic!   
The history of the Cosmo is shrouded in mystery. According to Vinepair.com, the origins of the Cosmo date back to the late nineteenth century, where a cocktail known as the Daisy emerged as a drink with a recipe that called for spirit, sweetener and citrus.
Although it isn't quite the Cosmo we know and love today, a more direct influence comes from the late 1960s when the brand Ocean Spray wanted to encourage adults to drink its cranberry juice.  Their drink, known (rather disturbingly for a marine conservation brand) as 'The Harpoon', was based on an ounce of vodka, an ounce of cranberry juice and a squeeze of lime.  Aside from the Cointreau or Triple Sec we find in the classic, it's pretty close to a Cosmo!  
According to legend, the modern day Cosmo emerged from the gay subculture of Miami Beach, Florida and Provincetown, Massachusetts, although its formal introduction is credited to a bartender named Toby Cecchini, who made the drink while working at the famous Odeon in Manhattan's Tribeca neighbourhood in 1987.
Celebrity consumption guaranteed its place on the mixology hit list – Madonna was pictured drinking one at a Grammy after-party at The Rainbow Room and the cocktail regularly starred in the hugely popular Sex in the City, securing its place in popular culture.
For our take on the Cosmo we've used our Master award-winning unaged rum instead of vodka.  Give it a try and let us know what you think – we love it!
For this serve you'll need: 
45ml Lost Years Navy Strength Rum
15ml Triple Sec
30ml cranberry juice
10ml lime juice
Shake over ice and fine strain into a martini glass. Garnish with orange peel.
Check out our Instagram Reel for the 30 second tutorial.