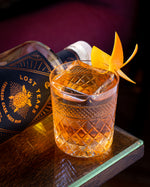 The Old-Fashioned is undoubtedly one of my favourite ways to drink rum and particularly our lovely cask aged Latin American rum, Arribada, which is proving a big hit with whisky and bourbon drinkers.  Warm, mellow and aromatic, it's like a liquid cuddle and is always guaranteed to lift the spirits. 
Traditionally made with bourbon or American rye whiskey, lightly sweetened with sugar and aromatised with bitters, this is perhaps the most classic of classic cocktails – a bar serve which has evolved slowly over the course of two centuries, but has never faded from view.
Robert Simonson, author of Old-Fashioned: The Story of the World's First Classic Cocktail, wrote: "The Old-Fashioned Whiskey Cocktail (the drink's full name) is the primordial drink, dating from the earliest days of the cocktail era."
Historians argue about the true origin of the drink, but in its simplest form it is thought to date back to very dawn of cocktail making, around 1806, when the classic spirit/sugar/water/bitters formula was laid down.  
Known simply as a Whiskey Cocktail during much of its early life, apparently it was often consumed in the morning as an eye-opener!
Over the years many have claimed to have invented the Old-Fashioned. One of the most persistent stories is that it originated at a private club, The Pendennis Club, in Louisville, Kentucky, in 1880-81.  
According to this legend, it was created by James E Pepper, who then took the recipe to the Waldorf Astoria hotel in New York City. Romantic as it sounds, this and other similar stories have now been largely debunked as records show the core recipe pre-dates these claims. 
By the late 19th century the Old-Fashioned was hugely popular and had taken on a more or less consistent form. Crafted in a short heavy bottomed glass (now known as the Old-Fashioned glass), made with lump sugar and bitters and served on the rocks, it was the classic 'sipper' of its day.
When George Kappeler's Modern American Drinks was published in 1895 it immortalised the recipe as follows: "Dissolve a small lump of sugar with a little water in a whiskey glass, add two dashes of Angastura bitters, a small piece of ice, a piece of lemon peel and one jigger of whiskey. Mix with a small bar spoon and serve, leaving the spoon in the glass."
We recommend orange peel rather than lemon peel and we swap out the whiskey for rum, but our own serve doesn't detract too much from that century-old recipe:
Take 50ml of Arribada rum, three dashes of Angostura bitters and two bar spoons of demerara sugar (to taste), stir with ice, strain over a single large ice cube and finally express and garnish with orange peel.
If you want you can adapt the recipe slightly by adding 10ml of our unaged Navy Strength rum to the mix, to give it a whole new dimension.
Check it out on our Serves page, alongside our other wonderful rum cocktails.