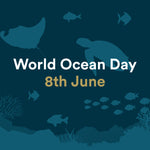 Today (8th June) is World Ocean Day, a global day of ocean celebration and collaboration for a better future.
Leading scientists worldwide have determined a healthy ocean is a critical part of the solution to the climate and biodiversity crises.
By supporting the 30×30 movement, we can protect our planet's life support systems – specifically the interconnected issues of ocean, climate, and biodiversity.  Currently, less than 17% of land and 8% of the ocean worldwide is protected.
The good news is, due to the efforts of the growing global 30×30 movement, including those involved in the World Ocean Day network, more than 90 countries have already committed to protecting at least 30% of their land and ocean by 2030.
With your help, and by working with youth and organisational leaders worldwide, together we will continue to grow the global movement to protect at least 30% of our blue planet by 2030 and safeguard our future.
Visit the official World Ocean Day website and add your signature to support this movement and help drive change.