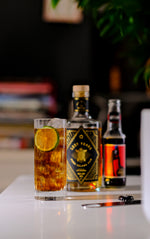 THE FOUR ISLAND CUBA LIBRE

Easy
For many people rum & cola - or the Cuba Libre to it its proper name - is the ultimate way to enjoy the spirit. 
The rum snobs may turn their nose up at such a simple and popular serve, but it's quite possibly the ultimate highball. 
Its origins are fuzzy, but it is believed to have originated in Cuba in the early 1900s - indeed the phrase Cuba Libre means Free Cuba! 
For this version we've chosen the wonderful Barrel Smoked Cola from Artisan Drinks.   This all natural soft drink adds smokey top notes to the cola nut bitterness, delivering the perfect companion for our multi faceted Four Island Rum. 
What you'll need:
How to do it: 
Pour the Four Island rum into a highball glass, then squeeze the lime wedge into it
Fill glass with cubed ice
Top with the Artisan Cola
Stir, and add more ice to fill if needed
Place the lime wheel inside the drink