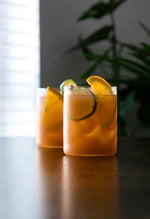 LOST YEARS RUM PUNCH
Who said rum punch couldn't be sophisticated?! 
Our riff on the classic rum punch plays to the drink's Caribbean roots, with our strongest unaged rum - our Master award-winning Navy Strength - at its heart.  This 54.5% ABV rum comes from the spiritual home of the rum punch - Jamaica and Barbados - delivering a classic that punches well above its weight!
INGREDIENTS:
30ml Lime Juice
22.5ml Simple Syrup (or Demerara Syrup)
5 dashes Angostura Bitters
Freshly grated nutmeg
HOW:
Shake all the ingredients together, including the nutmeg, with crushed ice - then simply pour into your glass.
GARNISH:
Mint sprig.