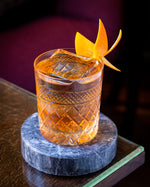 Lost Years Rum Old Fashioned

5 mins

Easy
We do love a rum Old Fashioned and this one, based around our gloriously mellow Arribada cask aged rum, is an absolute delight!  Grab yourself a leather chair and pull up a seat next to the fireplace...
INGREDIENTS:
3 dashes Angostura Bitters
2 barspoons demerara sugar (to taste)
HOW: 
Stir with ice, then strain over a single large rock. Express orange peel over result.
GARNISH: 
Orange peel
You can read more about the history of the Old Fashioned in this blog post.