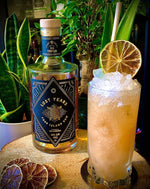 Turtles & Tiki - a Lost Years Signature Serve

Medium
This is one of three awesome tiki-inspired cocktails created by @doctorofalcohol for @craftrumbox and featuring our glorious sea turtle-saving signature blend, Four Island.

INGREDIENTS: 

-30ml Lost Years Four Island rum 
-20ml Bitter Bianco aperitif 
-5ml Hibiscus liqueur (atomised as garnish)
-60ml Freshly squeezed grapefruit juice 
-20ml Freshly squeezed lime juice
-15ml Homemade cinnamon syrup
-1 Dash angostura bitter. 
HOW:
Shake & strain over cubed ice. Cap with crushed ice & garnish. Finish with hibiscus liqueur atomised over the top.  Serve in a highball glass. 
How to make cinnamon syrup:
Boil a kettle & mix 100ml boiled water with 100ml (by volume) light brown sugar. 
Meanwhile lightly break a cinnamon stick into flakes.
Stir the cinnamon tick flakes into the sugar mixture & seal in a container with a lid.
Give everything a good shake & leave for 1 hour. 
Strain out the mixture until flake free. 
The remaining liquid is your cinnamon syrup. 
GARNISH:
2 x pineapple leaves, dehydrated lime wheel & atomised hibiscus liqueur