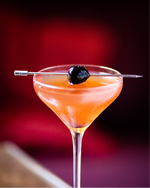 The Arribada Arrival - a Lost Years Signature Serve

5 mins

Easy
We commissioned the creation of this drink to celebrate the arrival of our limited edition Arribada cask aged rum.  The nutty flavours of the Oloroso sherry and the almond-based orgeat combine brilliantly with our warm, mellow, oaky aged rum to create a lush, decadent drink. 
INGREDIENTS:
30ml Dry Oloroso Sherry (possibly Amontillado as well)
10ml Amaro Di Angostura (alternatively, another Amaro and a dash of Angostura Bitters)
5ml Orgeat
HOW:
Stir with ice, then strain in coupe glass.
GARNISH:
Maraschino Cherry.