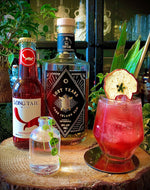 Turtles & Tails - a Lost Years Signature Serve

Easy
One of three awesome tiki-inspired cocktails created by @doctorofalcohol for Craft Rum Box and featuring our glorious sea turtle-saving signature blend, Four Island - introducing the appropriately named Turtles & Tails...

INGREDIENTS:
-30ml Lost Years Four Island Rum 
-10ml Apple liqueur
-10ml Creme de cassis
-15ml Lemon juice
-65ml Hibiscus Long Tail mixer

HOW:
Build all ingredients in a rocks glass over ice in order.
GARNISH:
Garnish with pineapple leaves and an apple wheel.