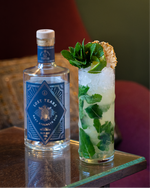 The Turtle Mojito - a Lost Years Signature Serve

5 mins

Easy
A liquid tribute to our beloved sea turtles - which every bottle of Lost Years Rum raises money to protect - the Turtle Mojito is our take on a true classic.  Made with our Master award-winning Navy Strength rum, it packs quite a punch! 
INGREDIENTS: 
15ml Falernum
30ml pineapple juice
30ml lime juice
15ml simple syrup
Mint leaves
HOW: 
Add all ingredients to a highball glass, fill halfway with crushed ice, then churn or swizzle until well mixed. Top up with more ice until full.
GARNISH: 
Mint leaves, lime wedge and/or dehydrated pineapple.