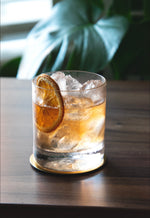 THE GALAPAGOS OLD FASHIONED

Easy
Over the last few days we've been busy celebrating Old Fashioned Week here at Lost Years HQ and we want to finish it off with a bang!
Not content with a one or two rum drink, we've pushed the boat out with a stunning serve that marries three of our wonderful sea turtle-saving rums to create the ultimate Rum Old Fashioned, which we've named the Galapagos Old Fashioned.
These unspoilt islands, famed for their abundant wildlife, are a reminder of what our incredible planet can be when it is left untouched by humans - and a symbol of what we all stand to lose if we don't stop talking and start taking action to combat climate change. It's a fitting drink to coincide with the start of week two of the COP 26 conference.
What you'll need:
20ml Lost Years
Arribada Cask Aged Rum
20ml Lost Years
Navy Strength Rum
20ml Lost Years
Four Island Rum
4 dashes angostura bitters
10ml demerara syrup
How to do it:
Stir over ice in an Old Fashioned glass or whisky tumbler. Garnish with a dehydrated orange.