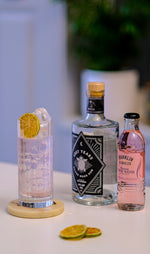 SILVER MOON RHUBARB RUM & TONIC

Easy
Move over G&T, it's time for the ultimate R&T!
Paired with the right mixer, our gorgeous unadulterated Caribbean rums make the perfect rum & tonic and it doesn't come much better than this one.
The combination of our fabulously fruity and floral Silver Moon rum with Rhubarb & Hibiscus Tonic from Franklin & Sons is a revelation.
The finest rhubarb provides abundant 'fresh-cut' tartness and the introduction of hibiscus flower brings further sophistication to the drink. Inspired by the chefs who chose to poach rhubarb in hibiscus flowers to bring out sweetness and tart notes; this pink-hued tonic brings out in our Silver Moon rum.
What you'll need:

• 50ml Lost Years Silver Moon Rum
• 150ml Franklin & Sons Rhubarb & Hibiscus Tonic
• 1 lime wedge
• Cubed ice
• Mint sprig
How to do it:
• Add the Silver Moon Rum into a highball glass
• Fill with cubed ice
• Top up with Franklin's Rhubarb & Hibiscus Tonic
• Add more ice to fill if needed
• Squeeze the lime wedge into the drink and place a lime wheel in the drink.
Check out our new YouTube Channel for the video tutorial (and don't forget to click 'subscribe'!)