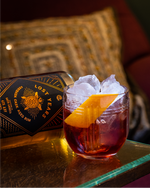 Lost Years Rum Negroni

5 mins

Easy
Traditionally made with gin, our rum negroni is a thing to behold. Made with our glorious Latin American cask aged rum, Arribada, it's a warmer, gentler, more mellow version of this classic.  Sip it by the fireside or decant into a hip flask and enjoy on a long winter walk!
INGREDIENTS:
30ml Sweet Vermouth
30ml Campari
HOW: 
Stir with ice, then strain over fresh ice.
GARNISH:
Express orange peel and garnish an old fashioned glass with it.