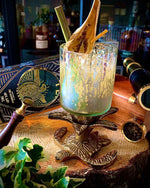 Riding on Shells - a Lost Years Signature Serve

Advanced
This stunner is one of three awesome tiki-inspired cocktails created by @doctorofalcohol for @craftrumbox and featuring our glorious sea turtle-saving signature blend, Four Island.

Called 'Riding on shells', this serve requires a little more effort than normal as it involves making a fat wash, but it's well worth it!

INGREDIENTS:
HOW:
Stir & strain all ingredients over ice. Serve in a rocks glass. 
How to fat wash:

Ratio: 60ml rum : 5ml Pistachio butter
Heat pistachio butter until runny & mix with rum in a container with a lid.
Seal lid & shake to mix.
Place in freezer for 6-8 hours. 
The pistachio butter will freeze, the rum won't. The rum will pull the flavour out of the butter.
Cloth strain the mixture leaving the solids in the cloth & the pistachio fat washed rum will filter through. 
Seal in a fresh container & enjoy.
GARNISH:
Banana chip