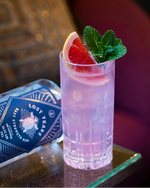 Lost Years Rum & Grapefruit Soda

5 mins

Easy
This is a potent and eye-catching drink made with our 54.5% Navy Strength Rum and grapefruit soda.  A super-simple serve, it's a truly refreshing drink on a summer day. 
INGREDIENTS:
100ml grapefruit soda
HOW:
Build in a tall glass over plenty of ice.
GARNISH:
Slice of pink grapefruit and/or mint sprig.