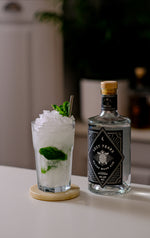 LOST YEARS SILVER MOON MOJITO

Easy
Made using our versatile unaged white rum, Silver Moon, this quick and easy mojito will transport you to the tropics, whatever the weather. A simple and delicious marriage of our fabulously fruity and floral pot and column still rum, lime juice, sugar syrup, soda and mint, it's one of the all time classic rum serves.
What you'll need:
25ml Lime juice

20ml Sugar syrup

25ml Soda water

8 - 10 good sized mint leaves

Mint sprig for garnish
How to do it:
Clap the mint leaves between your hands, place into a tall tumbler or highball

Add the rest of the ingredients

Fill with crushed ice, stir

Top with crushed ice

Garnish with a mint sprig and a straw
Check out the video on our new YouTube Channel. 
Easy!