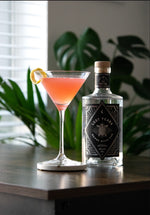 LOST YEARS SILVER MOON JASMINE

Easy
This one is a simple stunner!

The Jasmine is a gorgeous, underrated cocktail which is perfect for those looking for something refreshing, citrusy and not too sweet.

Usually made with gin, it's an absolute delight with our versatile Silver Moon pot and column still white rum from Jamaica and Barbados.

What you'll need:
50ml Silver Moon

20ml Lemon Juice

10ml Triple Sec

15ml Campari

10ml Simple Syrup
How to do it:
Shake all ingredients over ice.

Fine strain into a martini glass.

Garnish with a lemon twist.