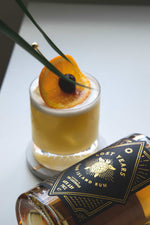 LOST YEARS RUM SOUR

Medium
The Rum Sour is a fantastic alternative to a daiquiri.  Made here with orange and lime juice and our signature aged rum, Four Island, it's a fairly simple serve which perfectly balances the warmth of the aged rum with the tartness and zing of the citrus fruits. 
INGREDIENTS:
HOW:
- Add all the ingredients into a cocktail shaker and shake vigorously (dry shake), then add in plenty of ice cubes and shake again (wet shake). 
- Strain and pour into an old fashioned glass filled with ice.
GARNISH:
Garnish with an orange slice & maraschino cherry.