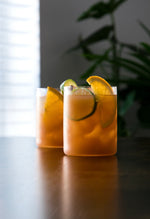 LOST YEARS RUM PUNCH 2021

Easy
Here's a truly gorgeous and classically Caribbean Lost Years Rum Punch made with both our Silver Moon and Four Island rums. Just look at those colours! 
What you'll need:
50ml Lost Years Silver Moon rum (link in bio)
50ml Lost Years Four Island rum (link in bio)
75ml pineapple juice
50ml orange juice
30ml lime juice
20ml grenadine
How to do it:
Build in jug
Stir over ice
Pour over ice into glass
Garnish with orange slice and lime slice
Check out our Instagram Reel for the video tutorial.