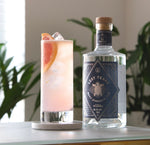 LOST YEARS RUM PALOMA

Easy
The paloma is usually a tequila-based cocktail, but it works brilliantly with our potent multi award-winning Navy Strength unaged rum. This drink is most commonly prepared by mixing tequila, lime juice, and a grapefruit-flavoured soda, but we've mixed it up with the addition of pink grapefuit juice.  The ingredients for this one are easy to get hold of, so give it a try! 
What you'll need:
50ml Lost Years Navy Strength Rum
30ml Pink Grapefruit Juice
10ml Lime Juice
Pink Grapefruit Soda
How to do it:
Shake over ice.
Strain into a highball full of ice.
Top with pink grapefruit soda.

Garnish with a pink grapefruit slice.
Follow us on Instagram and check out our Reels for the full lowdown on this and other amazing Lost Years make-at-home cocktails.