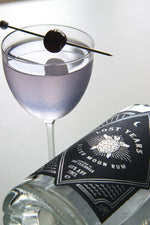 LOST YEARS RUM NAVYATION

Easy
The Navyation is our rum-fuelled take on a classic gin cocktail, the Aviation.  
This serve combines unaged rum, maraschino liqueur and fresh lemon juice alongside that crème de violette, creating a unique, floral cocktail.  The rum provides a robust base, while the maraschino liqueur delivers bittersweet cherry notes and the lemon adds acidity for balance.
Crème de violette is extremely floral, so use it sparingly and measure out your ingredients. Too much, and your Navyation will taste like a bowl of potpourri!!
INGREDIENTS:
HOW: 
Shake ingredients over ice and fine strain into a Nick & Nora glass.
GARNISH: 
Maraschino cherry
Check out our Instagram Reel for the 30 second tutorial.