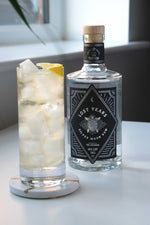 LOST YEARS RUM MULE

Easy
Sometimes the simple serves are the best, and it doesn't get much easier than this one! 
The Lost Years Rum Mule can be made with either of our unaged rums - our awesome Silver Moon rum or our more potent Navy Strength rum - and either ginger ale or ginger beer, depending on your preference. 
There are no hard and fast rules with this one, so give them a try to find your favourite pairing. 
INGREDIENTS:
HOW: 
Fill a highball glass with ice 
Pour the rum 
Add the ginger ale or ginger beer 
Squeeze in some lemon
Give it a gentle stir 
GARNISH: 
Garnish with a wedge of lemon.