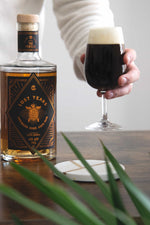 LOST YEARS IRISH COFFEE

Easy
We celebrated St Patrick's Day this year with our very own take on an Irish classic – introducing the Lost Years Irish Coffee. 
Purists might suggest this is more a Caribbean coffee than an Irish one, but our Arribada rum is a pure and unadulterated Latin American rum with quite a dry, oaky finish – and it's going down a storm with whiskey lovers!

We think Joe Sheridan, who created the original Irish Coffee in 1943, would have approved.
INGREDIENTS:
50ml Lost Years Arribada Cask Aged Rum
15ml demerara syrup
100ml freshly brewed Arabica coffee
Whipped cream to finish
HOW:
Pour 50ml of our limited edition Arribada Cask Aged rum into a heat proof glass, add 15ml of demerara syrup, 100ml of freshly made Arabica coffee and finish with a float of lightly whipped cream.
Check out our
Instagram Reel
for the 30 second tutorial.