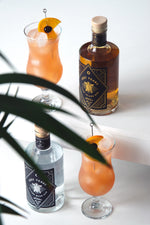 LOST YEARS HURRICANE

Easy
Here's a serve that'll always go down a storm - the Lost Years Hurricane!
Made not with one, but two of our delicious sea turtle-saving rums, it's a tropical delight.
What you'll need:
25ml Four Island Rum 
25ml Silver Moon Rum 
15ml Passionfruit Syrup
10ml Simple Syrup
20ml Orange Juice
Bar spoon of grenadine 
Juice of half a lime
How to do it:


Shake over ice and then strain into a hurricane glass over ice.
Garnish with an orange slice and maraschino cherry on a cocktail stick.