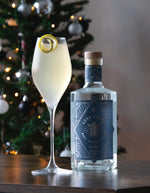 LOST YEARS FRENCH 75

Easy
Okay, you know by now that we like to take classic cocktails and give them a Lost Years twist using our award-winning rums. So it's time to set our sights on the deliciously decadent French 75.
Named after the fast-firing 75 millimeter field gun that was used by the French during World War One, it's a prohibition era cocktail that has become a firm favourite in cocktail bars the world over.
It's usually made with gin these days, but some say it started out as a cognac and Champagne combo. Content with neither, we're giving it extra punch using our world class Navy Strength unaged rum.
Give it a try - it'll definitely have you coming back for more!
What you'll need:
Champagne
20ml Lemon Juice
20ml Simple Syrup
How to do it:
Pour the rum, lemon juice and syrup into a cocktail shaker over ice.
Strain into a Champagne flute.
Top with Champagne.
Garnish with a lemon twist