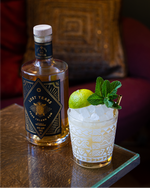 Lost Years Mai Tai

5 mins

Easy
Arguably the most famous Tiki drink in the world, the classic Mai Tai has captivated cocktail enthusiasts for decades.  With a flavour profile based around lush Caribbean rum, orange and almonds, it's a winner whatever the weather. 
INGREDIENTS:
15ml Orange liqueur
25ml Lime juice
15ml Orgeat
HOW:
Shake all ingredients together then double-strain over crushed ice.
GARNISH: 
Spent lime shell and mint sprig.